"Tomorrow is often the busiest day of the week." Spanish Proverb.
And it sure seemed that way with last week's busy economic calendar, as Friday's Jobs Report capped off a week filled with data. Here are the highlights.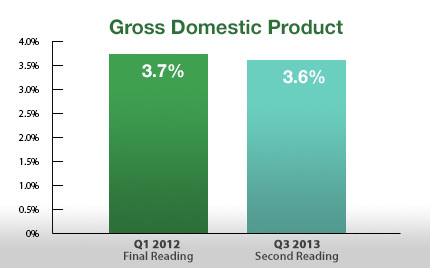 The highly anticipated November Jobs Report revealed that employers created 203,000 jobs last month, above the 188,000 expected. The Unemployment Rate fell to a 5-year low of 7 percent while the Labor Force Participation Rate (LFPR) managed to tick up to 63.0 percent, though it is still at lows not seen since the late 1970s. The LFPR is a measure of how many people are looking for work. All in all this was a good report, but the labor market is not out of the woods yet.
Also of significance, the second reading of third quarter Gross Domestic Product (GDP) rose by 3.6 percent, above expectations and the best level in a year and a half. But a closer look shows the gains coming from a large buildup in inventories. This is important to note because a buildup in inventories could cause goods to stay on the shelf and not materialize into sales, which could set the stage for a disappointing read in the fourth quarter.
In housing news, research firm CoreLogic reported that home prices, including distressed sales, rose by 12.5 percent in October 2013 compared to October 2012. This marks the twentieth month of year-over-year home price gains. In addition, New Home Sales for September fell but October's New Home Sales surged 26 percent, coming in above expectations. Both reports were delayed due to the government shutdown.
What does this mean for home loan rates?
Remember that the Fed has been purchasing $85 billion in Bonds and Treasuries each month to stimulate the economy and housing market. The Fed has said that its decision regarding when to taper these purchases will be dependent on economic data. Whether data has been strong enough for the Fed to begin tapering these purchases after its meeting of the Federal Open Market Committee on
December 17-18
remains to be seen. Either way, the timing of the Fed's decision will definitely impact home loan rates heading into 2014 and it's why economic data in the coming weeks will be important to monitor.
The bottom line is that now remains a great time to consider a home purchase or refinance as home loan rates remain attractive compared to historical levels. Let me know if I can answer any questions at all for you or your clients.
I would love the opportunity to help you manage your
Lake of the Ozarks Mortgage Loan
or refinance. Give me a call at (573) 746-7211 or send me an email at mlasson@fsbfinancial.com with any questions you may have!!
For Lake area news, resources and tips on financial services, please
Sr. Residential Mortgage Lender
2265 Bagnell Dam Blvd, Suite B