"Every day you make progress." Winston Churchill.
And the housing market continues to progress in the right direction. Read on for details.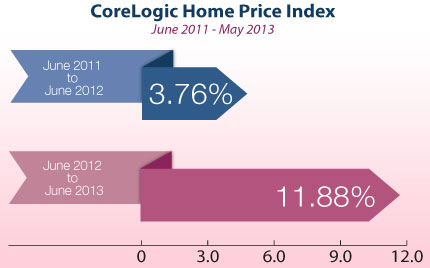 Last week, research firm CoreLogic reported that home prices across the U.S. rose by nearly 12 percent from June 2012 to June 2013. By comparison, home prices only rose 3.76 percent from June 2011 to June 2012. In addition, research and analytics firm Clear Capital said that prices rose 9.3 percent in the year ended in July.

The housing markets have turned the corner to greener pastures, but it's important to note that this pace of growth may be unsustainable. With home loan rates rising over the past several months, this rate of appreciation could slow.

In labor market news, Weekly Initial Jobless Claims rose by 5,000 in the latest week to 333,000, but this was below the 340,000 expected. This followed the Jobs Report for July, which was a bit of a disappointment with less jobs created than expected.

What does this mean for home loan rates? One of the biggest questions on everyone's mind is: When will the Fed start tapering their Bond purchases? Remember that the Fed has been buying $85 billion of Bonds a month to help stimulate the economy and housing market. This includes Mortgage Bonds, to which home loan rates are tied, and these purchases have helped home loan rates remain attractive.

The Fed has said the rate of their purchases will continue to depend on economic data, and could be increased or decreased accordingly. Last week, several Fed members spoke out in favor of tapering these purchases as early as the Fed's meeting in mid-September. However, with our economy growing at sub 2 percent, economic data between now and September will be a key factor in this decision.

The bottom line is that home loan rates remain attractive compared to historical levels and now remains a great time to consider a home purchase or refinance. Let me know if I can answer any questions at all for you or your clients.
We would love the opportunity to help you manage your Lake of the Ozarks Mortgage Loan or refinance. Give me a call at (573) 746-7211 or send me an email at mlasson@fsbfinancial.com with any questions you may have!!
For Lake area news, resources and tips on financial services, please
Sr. Residential Mortgage Lender
2265 Bagnell Dam Blvd, Suite B